Antaris Seventy7 Touring
A sea of space and luxury
Dimensions
8.05 m x 3.25 m
Unique detail
Passage way in the stern

Antaris Seventy7 Touring
from €79.750,-
A sea of space and luxury
The Antaris Seventy7 Touring is a spacious and very stable sloop with great comfort and modern lines. Through the door in the stern, you have easy access from the swimming platform to the cosy round seating. On the Touring, the steering is at the back of the boat, for the ultimate sloop feeling and optimal space in the cockpit. In addition, the Antaris Seventy7 Touring is equipped with a lockable toilet in the front of the boat, neatly concealed behind the seating area.
Sloop with cooling drawer and lots of storage space
The Antaris Seventy7 is equipped as standard with a luxurious and large cooling drawer. So you can easily keep all your snacks and drinks cool throughout the day. There are also large storage areas under the benches and cockpit floor for fenders, life jackets and other items. This allows you to neatly store all your belongings and you have all the space that this sloop has to offer available in the cockpit.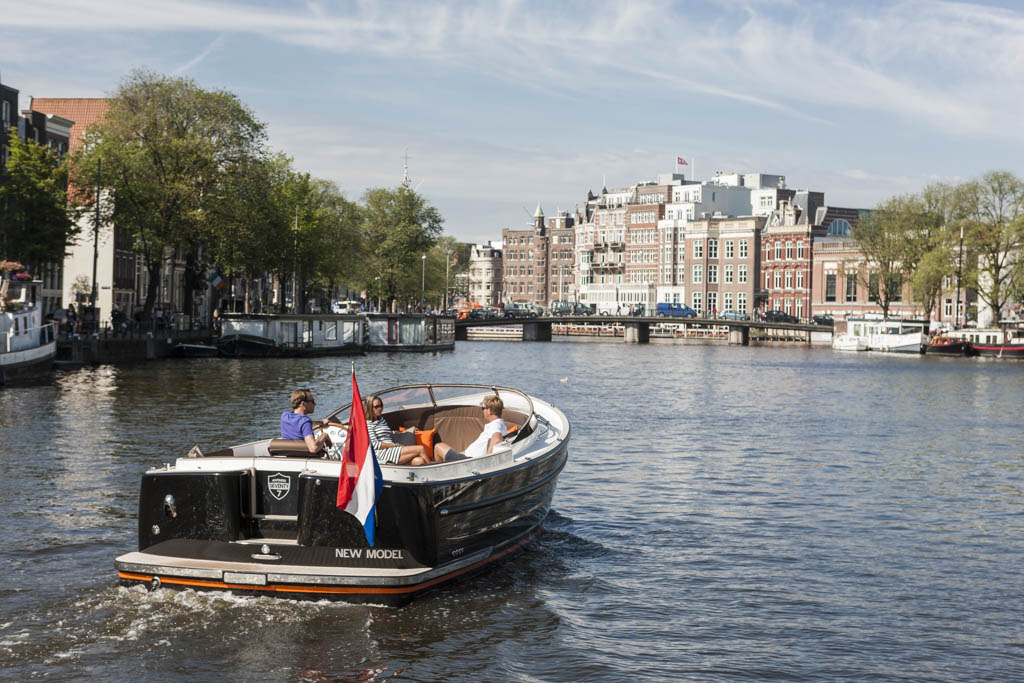 Many luxury extras
In the front of the tip of the Seventy7 Touring, you will find the lockable toilet. This is neatly concealed behind the spacious seating area. By removing the middle cushions, you have easy access to the toilet area. When not in use, it is completely out of sight. In the back of the stern is a free passageway to the swimming platform of the Seventy7. So you can easily take a refreshing dive and get back into the boat.
Three variants Seventy7
The Antaris Seventy7 is available in three variants. The Seventy7 Sport with centre steering and powerful motorisation, the Seventy7 Cabin with complete cabin and the Seventy7 Touring with an abundance of space and luxury. All three sloops have a sleek and modern look thanks to the beautiful lines of the boat. A real eye-catcher on the water.
Specifications Seventy7 Touring
View all the specifications of the Seventy7 Touring below
General

Sloop draught

approx. 0.75 m

Sloop clearance height

Approx. 1.50 m

CE category

C (coastal waters)

Standard motorisation

27 hp 3 cylinder Vetus diesel engine
Construction sloop

Strengthened polyester engine bed
Hull sloop

LED navigation lights (red/green in bow) and sternlight

Integrated bathing platform

Stern access door leading to integrated bathing platform

Stainless steel air intakes on stern

Rubber protection strip on side of hull (light grey or black colour)

Choice of waterline colours

Antifouling (2-layers) with polyester primer

Standard hullcolours RAL 9010 (pure white) or RAL 1013 (off white)
Deck sloop

Canopy with folding front frame and sloping rear section

Synthetic teak trim around the deck

Stainless steel fairleads (4)

Stainless steel bollards (3)

Stainless steel cleats (6)

Stainless steel flagpole socket

Anchor locker in foredeck with drain

Anchor locker in foredeck with drain

White navigation light with 360  radius, removeable (LED)

Standard deckcolours RAL 9010 (pure white) or RAL 1013(off white)
Cockpit sloop

Steering console with rubber steering wheel and stainless steel spokes (55 cm ø)

Stainless steel engine control

Comprehensive dashboard including rev counter, fuel indicator, volt meter, engine hour, oil gauge and temperature gauge

Stainless steel cup holders (4)

Refrigerator (compressor) in stainless steel frame

Storage cupboard with 2 drawers

Cushion set in a choice of colours, including matching buttons and piping

Lockable toilet room under the foredeck, including chemical toilet and LED lighting

Stern access door leading to integrated bathing platform

Synthetic teak trim around the cockpit

Synthetic teak on the enginebox

Synthetic teak on access steps with large storage compartments

Large storage compartments

Large storage compartment in the floor

Specially insulated engine compartment; with stainless steel grip and stainless steel opening for fire extinguishing

Stainless steel drain built into flooring
Sloop technology

27 hp 3 cylinder Vetus diesel engine

Mechanical (cable) steering

Water-lubricated propshaft

3 blade propeller and zinc anode

Low maintenance service battery
Safety

Main switch in storage compartment (2)

Electric cockpit pump with float switch

Fuel valve lock and water separator/fuel filter/ Cooling water strainer
Visit the most beautiful showroom in The Netherlands
Take a digital look around our 1500 m2 showroom.
Downloads
View or download the Antaris Seventy7 Touring brochure below:
Discover all models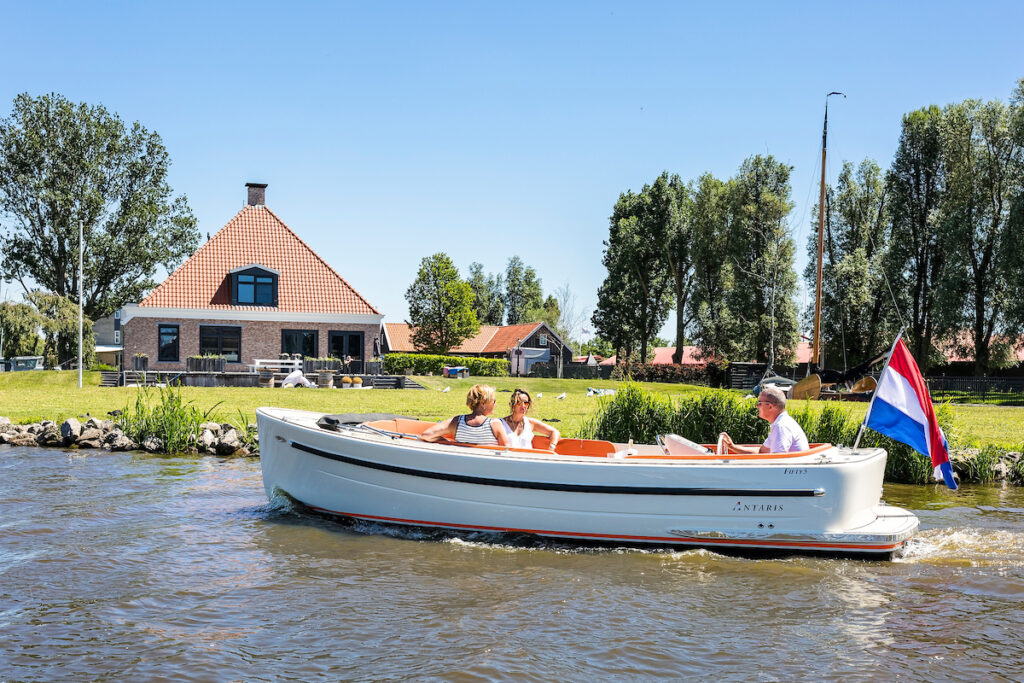 Antaris Fifty5
| | |
| --- | --- |
| Length | 5,90 m |
| Width | 2,50 m |
| Depth | 0,60 m |
| Height clearence | approx. 1,00 m |
| Number of persons | 8 |
Antaris Sixty6
| | |
| --- | --- |
| Length | 6,60 m |
| Width | 2,60 m |
| Depth | 0,70 m |
| Height clearence | approx. 1,10 m |
| Number of persons | 14 |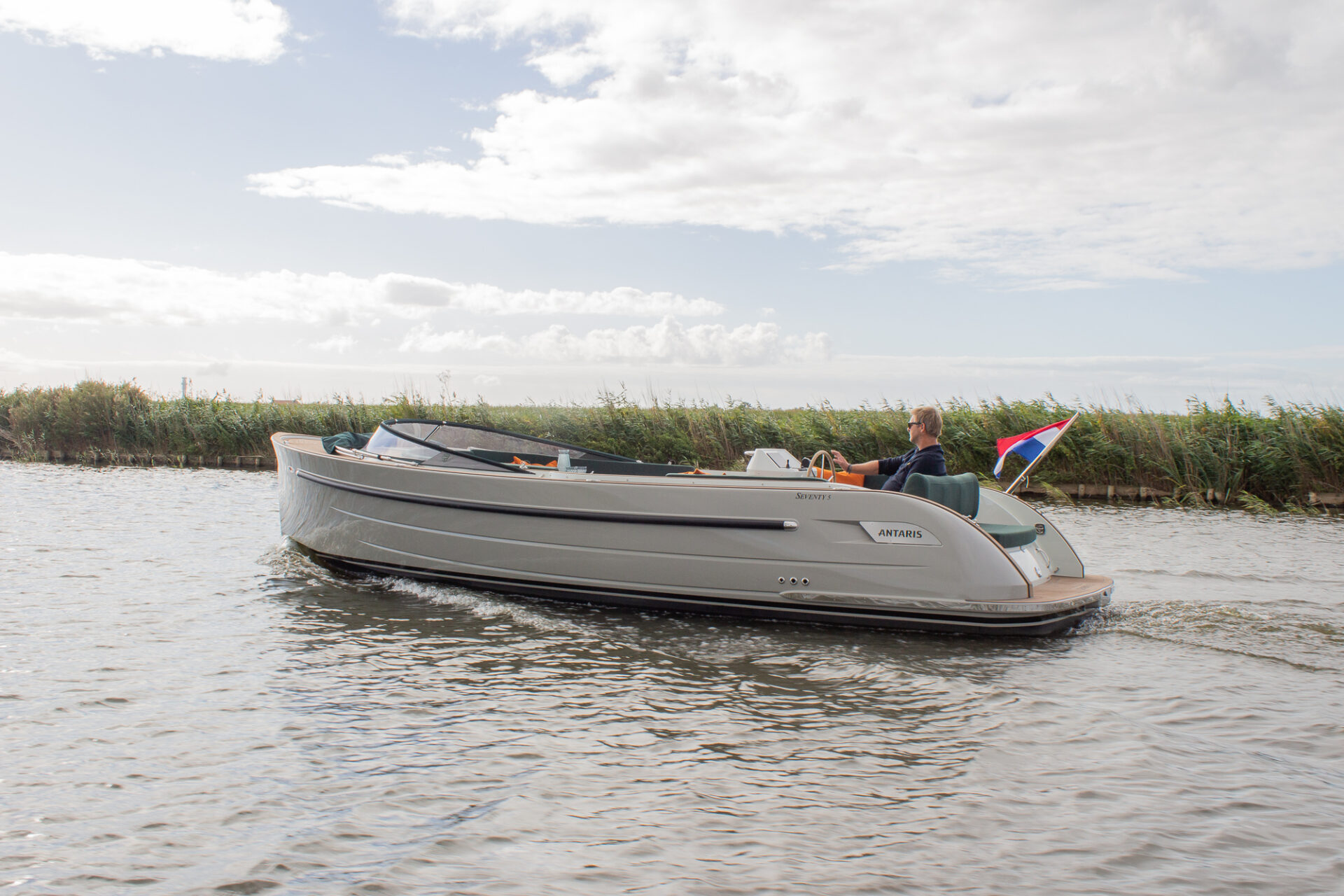 Antaris Seventy5
| | |
| --- | --- |
| Length | 7,50 m |
| Width | 2,85 m |
| Depth | 0,75 m |
| Height clearence | approx. 1,18 m |
| Number of persons | 10 |
Antaris Seventy7 Touring
| | |
| --- | --- |
| Length | 8,05 m |
| Width | 3,25 m |
| Depth | 0,75 m |
| Height clearence | approx. 1,50 m |
| Number of persons | 20 |
Antaris Seventy7 Sport
| | |
| --- | --- |
| Length | 8,05 m |
| Width | 3,25 m |
| Depth | 0,75 m |
| Height clearence | approx. 1,50 m |
| Number of persons | 20 |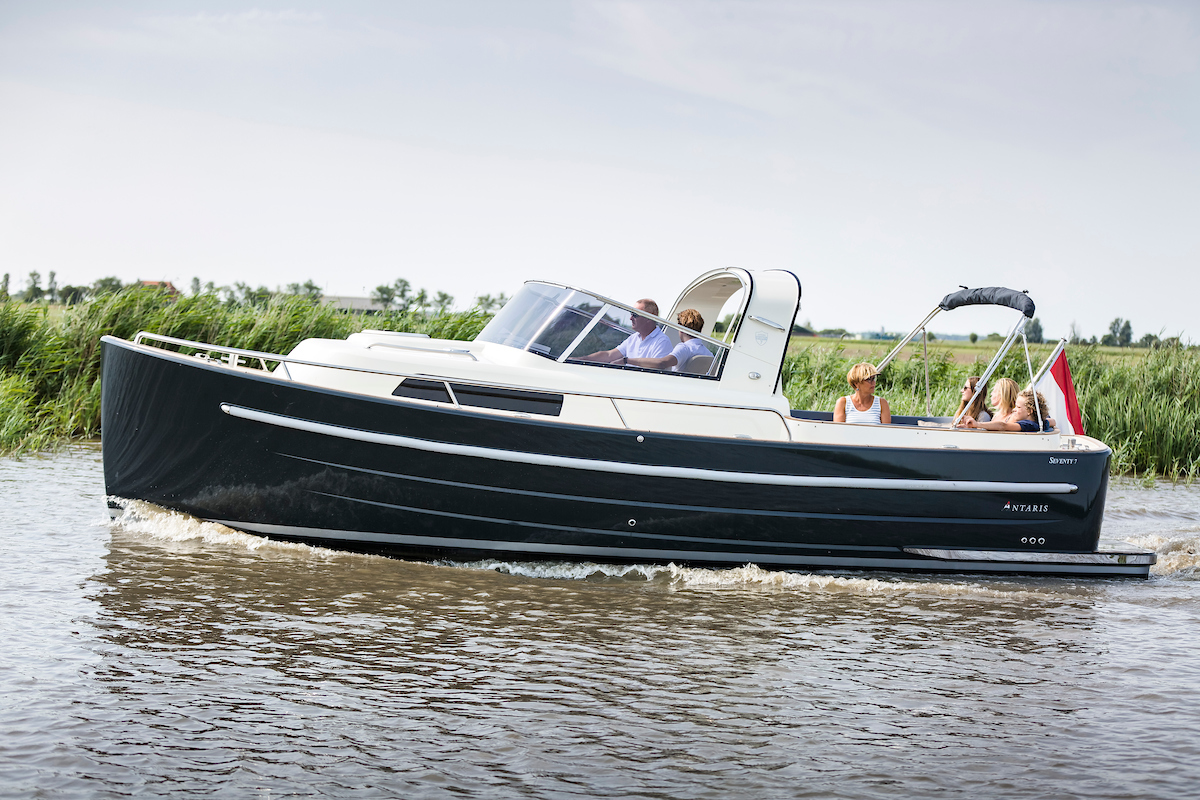 Antaris Seventy7 Cabin
| | |
| --- | --- |
| Length | 8,05 m |
| Width | 3,25 m |
| Depth | 0,80 m |
| Height clearence | approx. 2,30 m |
| Number of persons | 10 |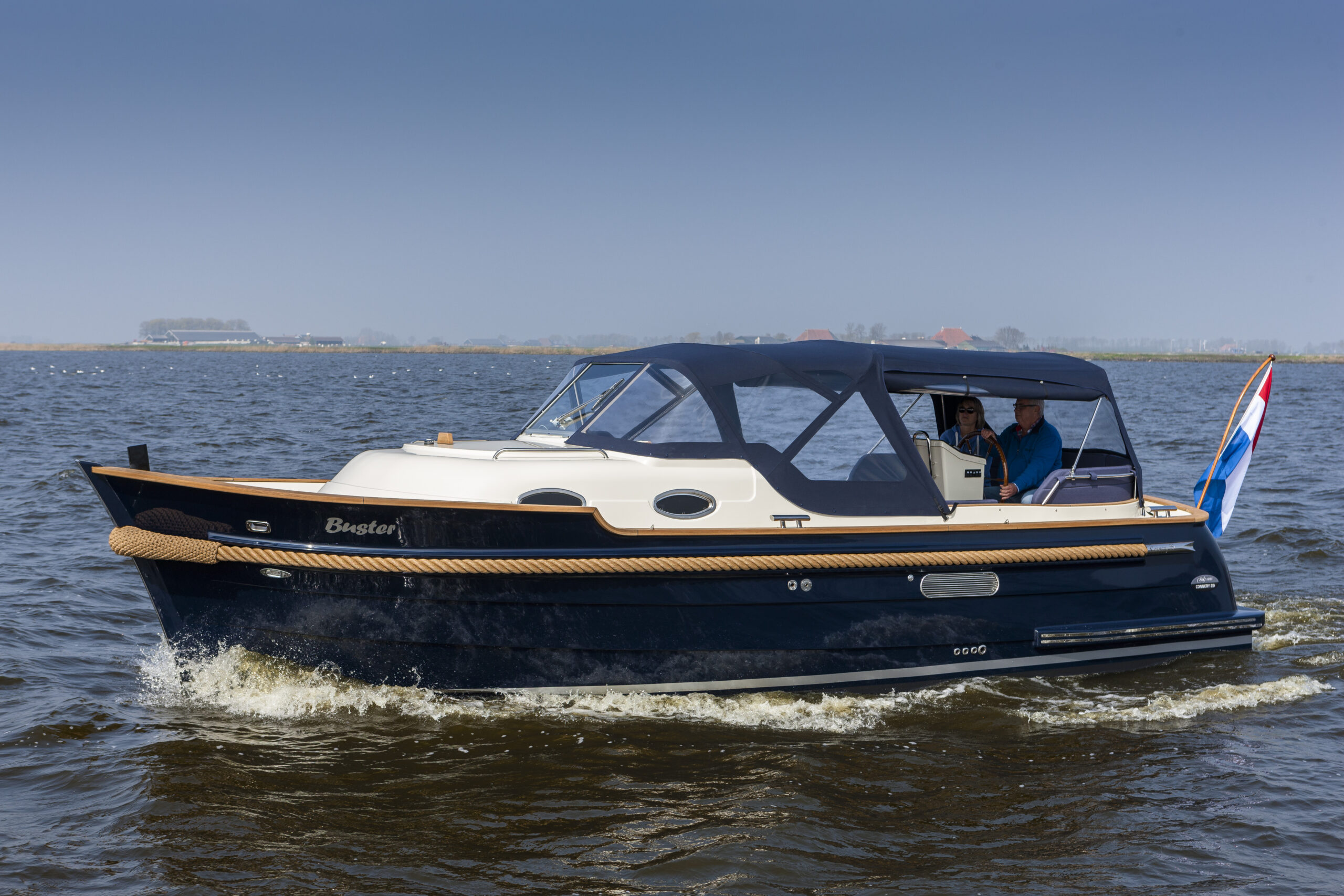 Antaris Connery 29
| | |
| --- | --- |
| Length | 8,70 m |
| Width | 3,05 m |
| Depth | 0,75 m |
| Height clearence | approx. 1,53 m |
| Number of persons | 8 |
Antaris X
| | |
| --- | --- |
| Length | 10,00 m |
| Width | 3,60 m |
| Depth | 0,75 m |
| Height clearence | approx. 2,40 m |
| Number of persons | 6 |