Antaris Seventy5
New model: welcome to view in our showroom
Dimensions
7.50 m x 2.85 m
Sloop clearance height
ca. 1.18 m
Unique detail
Adaptable sun bed
Antaris Seventy5
from €64.500
The new Antaris Seventy5: now available for viewing in our showroom
The Seventy5 is our newest Antaris model. Designed for comfortable sailing with both electric or diesel propulsion.
The Antaris Seventy5 is to be admired in our showroom in Woudsend, The Neterlands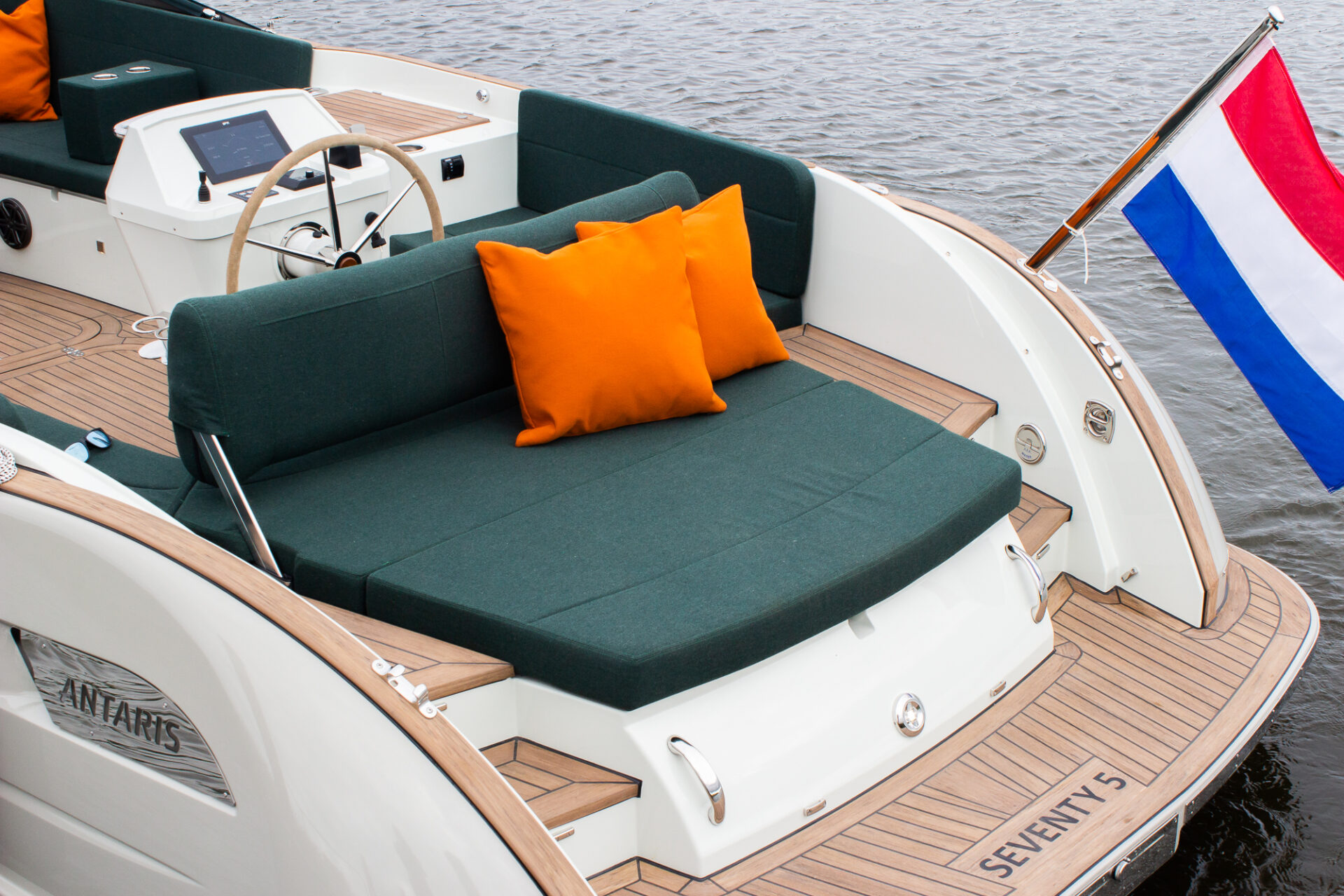 With a flexibly used sunbed in the stern
The sunbed in the stern can be fully personalised to your wishes. With the practical system, you can transform the seat into a comfortable lounger. With the open stern with integrated swimming platform it is easy to get on board.
Extremely suitable for electric sailing
The Antaris Seventy5 is designed for electric sailing. The design takes into account a special space under the cockpit floor for the batteries. This makes an engine box unnecessary for electric propulsion, which results in an extra spacious cockpit. There is also the possibility to equip the boat with a diesel engine.
With the trusted Antaris details
The Antaris Seventy5 has everything you would expect from Antaris and more! The beloved sporty bow, the rubber bumper and the sublime sailing characteristics are also found in the new Seventy5. New to this design is the open stern and flat cockpit floor in the electrically powered version.
Specifications Seventy5
View all the specifications of the Seventy5 below
General

Sloop clearance height

ca. 1.18 m

CE category

C (coastal waters)
Construction sloop

Polyester engine foundation with laminated steel strips
Hull sloop

LED navigation lights (red/green in bow) and sternlight

Integrated bathing platform with synthetic teak

Integrated air vents with luxurious stainless steel cover including Antaris logo

Plastic bumper with stainless steel end pieces (black or light grey)

Choice of waterline colours

Antifouling (2-layers) with polyester primer

Standard hullcolours RAL 9010 (pure white) or RAL 1013 (off white)
Deck sloop

Canopy with folding front frame and sloping rear section

Synthetic teak trim around the deck

Stainless steel fairleads (4)

Stainless steel bollards (3)

Stainless steel cleats (6)

Stainless steel flagpole socket

Anchor locker in foredeck with drain

White navigation light with 360  radius, removeable (LED)

Standard deckcolours RAL 9010 (pure white) or RAL 1013(off white)
Cockpit sloop

Steering console with rubber steering wheel and stainless steel spokes (55 cm ø)

Stainless steel engine control

Comprehensive engine display/motor panel

Cushion set in a choice of colours, including matching buttons and piping

Lockable toilet room under the foredeck, including LED lighting

Synthetic teak on swimming platform – colour of your choice.

Synthetic teak on the enginebox – Colour of choice (engine box not needed for electric propulsion)

Wide acces steps with storage space, with artificial teak steps – choice of colour

Large storage compartments under the seats

Engine compartment specially insulated

Stainless steel water drains in the floor
Sloop technology

Mechanical (cable) steering

Water-lubricated propeller shaft system
Safety

Electric cockpit pump with float switch

Fuel valve lock and water separator/fuel filter/ Cooling water strainer
Visit the most beautiful showroom in The Netherlands
Take a digital look around our 1500 m2 showroom.
Downloads
View or download the Antaris brochure below:
Discover all models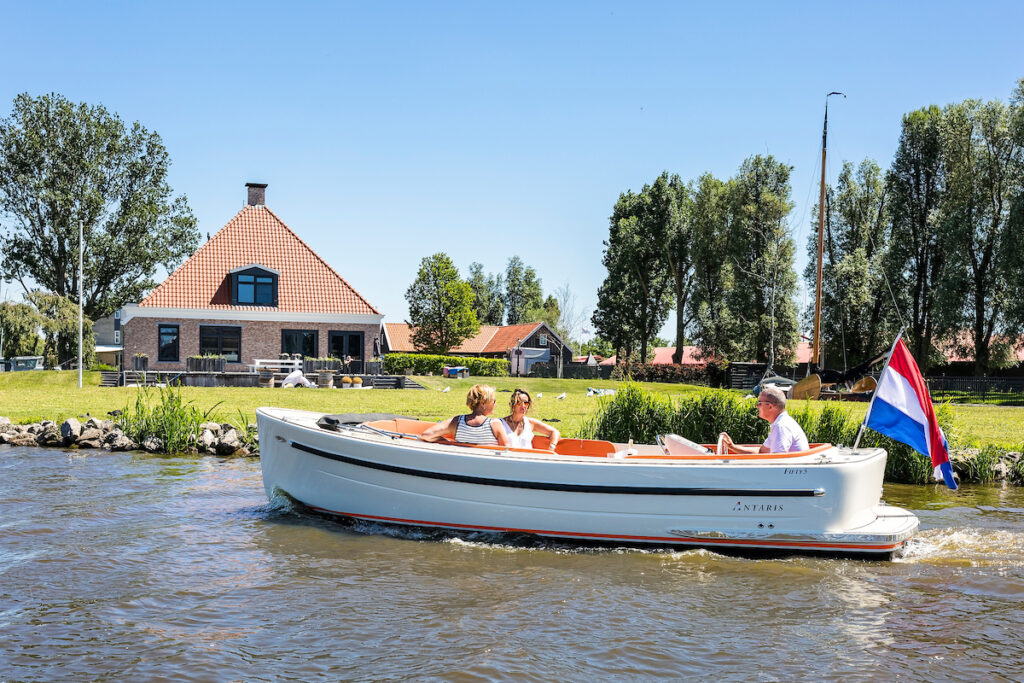 Antaris Fifty5
| | |
| --- | --- |
| Length | 5,90 m |
| Width | 2,50 m |
| depth | 0,60 m |
| Height clearence | approx. 1,00 m |
| Number of persons | 8 |
Antaris Sixty6
| | |
| --- | --- |
| Length | 6,60 m |
| Width | 2,60 m |
| depth | 0,70 m |
| Height clearence | approx. 1,10 m |
| Number of persons | 14 |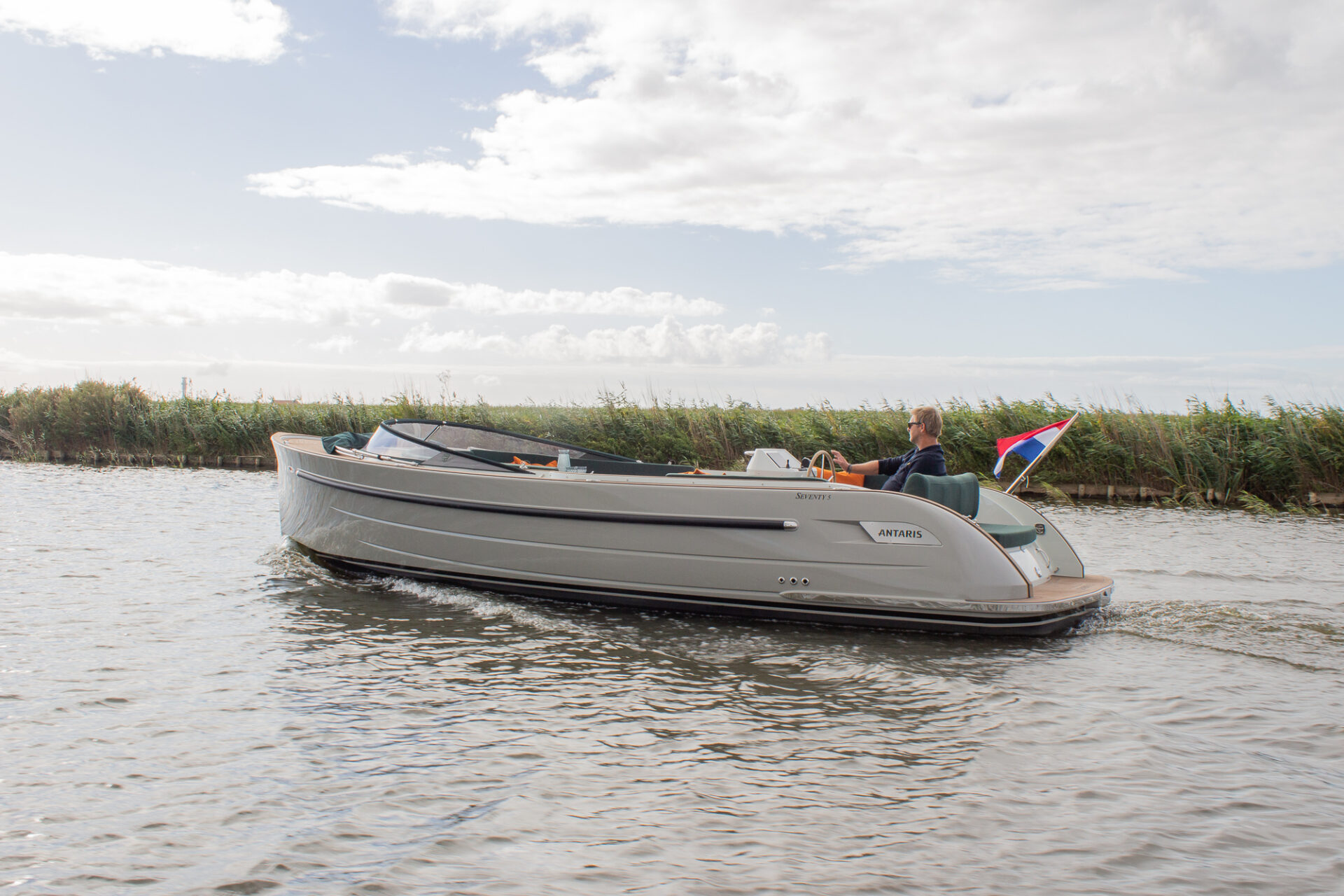 Antaris Seventy5
| | |
| --- | --- |
| Length | 7,50 m |
| Width | 2,85 m |
| depth | 0,75 m |
| Height clearence | approx. 1,18 m |
| Number of persons | 10 |
Antaris Seventy7 Touring
| | |
| --- | --- |
| Length | 8,05 m |
| Width | 3,25 m |
| depth | 0,75 m |
| Height clearence | approx. 1,50 m |
| Number of persons | 20 |
Antaris Seventy7 Sport
| | |
| --- | --- |
| Length | 8,05 m |
| Width | 3,25 m |
| depth | 0,75 m |
| Height clearence | approx. 1,50 m |
| Number of persons | 20 |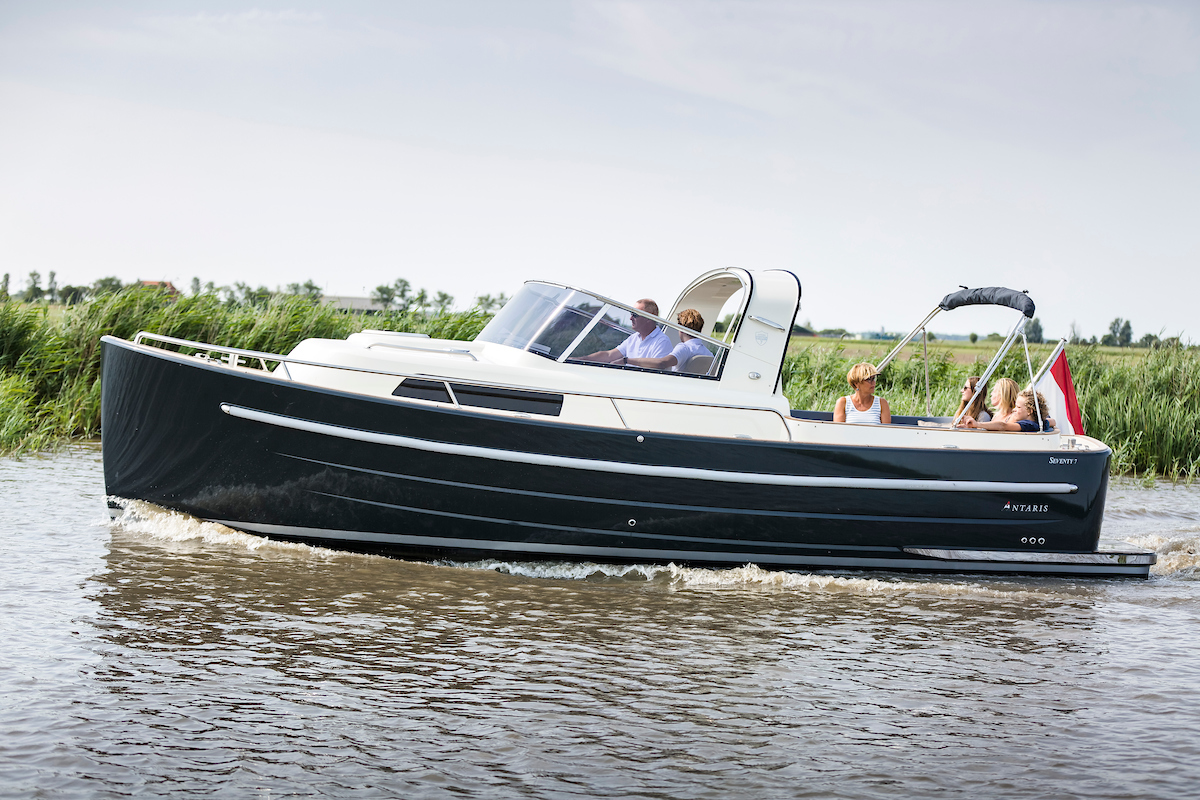 Antaris Seventy7 Cabin
| | |
| --- | --- |
| Length | 8,05 m |
| Width | 3,25 m |
| depth | 0,80 m |
| Height clearence | approx. 2,30 m |
| Number of persons | 10 |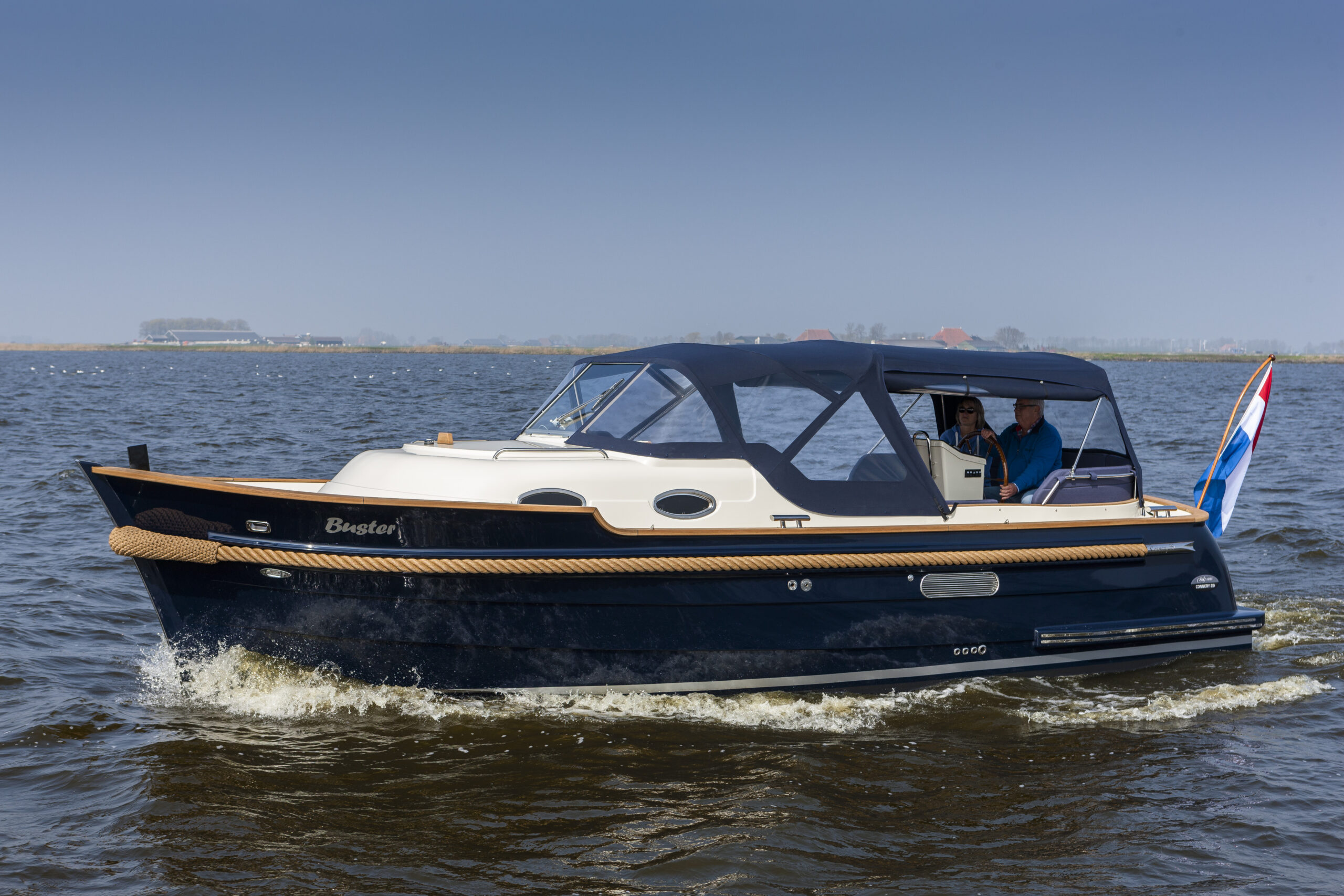 Antaris Connery 29
| | |
| --- | --- |
| Length | 8,70 m |
| Width | 3,05 m |
| depth | 0,75 m |
| Height clearence | approx. 1,53 m |
| Number of persons | 8 |
Antaris X
| | |
| --- | --- |
| Length | 10,00 m |
| Width | 3,60 m |
| depth | 0,75 m |
| Height clearence | approx. 2,40 m |
| Number of persons | 6 |