Antaris Seventy7 Cabin
The sporty cabin sloop of Antaris
Dimensions
8.05 m x 3.25 m
Unique detail
Passage in the stern
Antaris Seventy7 Cabin
from €109.500,-
The sporty cabin sloop of Antaris
The Antaris Seventy7 is a modern and sporty designed cabin sloop. The lockable cabin is equipped with a spacious round seat, a generous double bed, a luxurious galley and a lockable toilet. The spacious cockpit offers plenty of seating and storage space.
Luxury Cabin Sloop
The Antaris Seventy7 cabin is the ideal combination of a cabin boat and a luxury sloop: all the advantages of both a sloop and a cabin boat. Inside the cabin you will find a round seat which can be converted into a double bed, a kitchen block with a sink and a lockable toilet.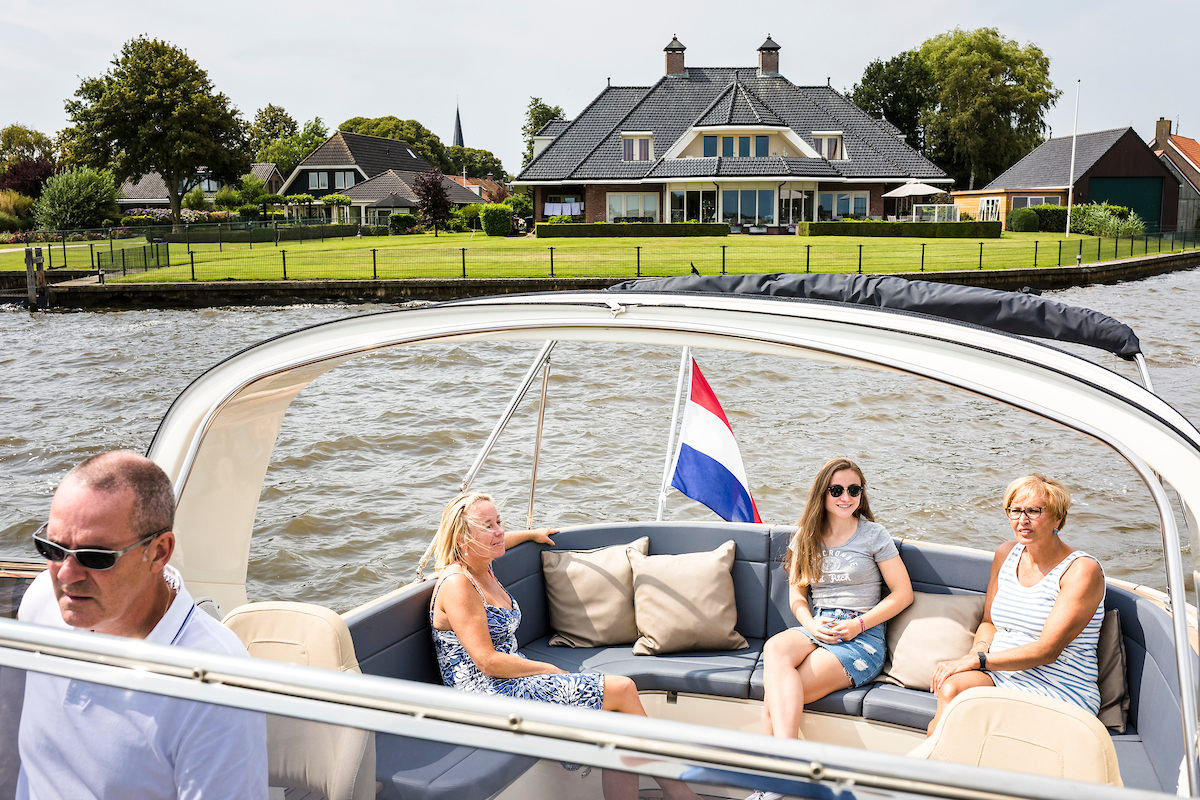 Spacious cockpit with passage to swimming platform
There is plenty of seating in the cockpit thanks to the large round seat in the back of the sloop. In the middle of this round seating area is the practical passage to and from the integrated swimming platform. Under the seats you will find the spacious storage bins with plenty of space. The table top on the engine box, covered with artificial teak, functions as a table in the middle of the cabin sloop.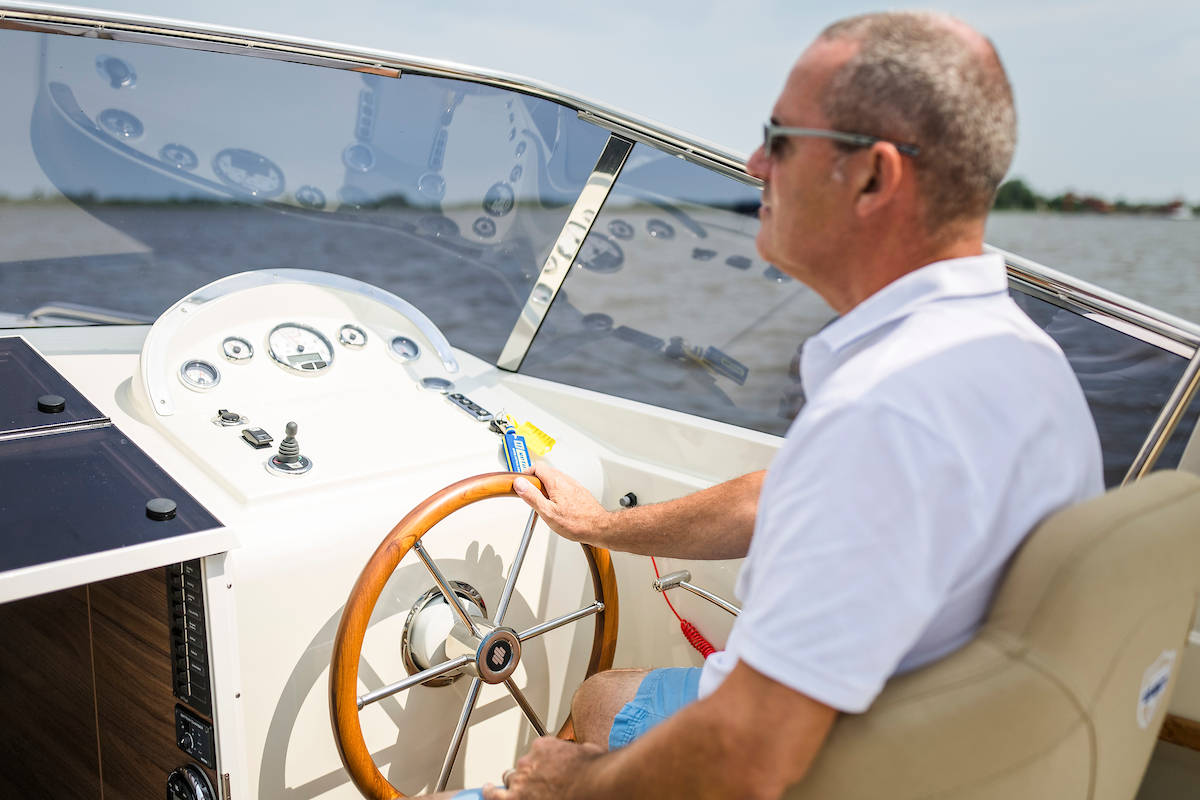 Driver seat
For the driver, a luxurious rotating seat is positioned on the starboard side. From this position you have a good overview of the water and you can easily turn towards the rest of the seats. Thanks to the high sprayhood it is possible to sail in all weather conditions.
Specifications Seventy7 Cabin
See all the specifications of the Seventy7 Cabin below
General

Sloop draught

approx. 0.75 m

Sloop clearance height

approx. 2.30 m

CE Category

C (coastal waters)

Standard motorisation

Vetus 27 hp 3 cilinder diesel
Construction sloop

Strengthened polyester engine bed
Hull sloop

Integrated bathing platform

Stern access door leading to integrated bathing platform

Stainless steel air vents on stern

LED navigation sternlight

Rubber protection strip on side of hull (light grey or black colour)

Antifouling (2-layers) with polyester primer

Choice of waterline colours

Standard hull colours RAL 9010 (pure white) or RAL 1013 (off white)
Deck sloop

Canopy with folding front frame and sloping rear section

Synthetic teak trim around the deck

Stainless steel fairleads (4)

Windscreen (plastic) with side windows

Escape hatch, lockable, including flyscreen

Stainless steel roof railing

Stainless steel bollards (3) and stainless steel cleats (6)

Stainless steel flagpole socket

Anchor locker in foredeck with drain

LED navigation lights (red/green in bow) and white navigation light with 360  radius

Standard deck colours RAL 9010 (pure white) or RAL 1013(off white)
Cockpit sloop

Central steering with rubber steering wheel and stainless steel spokes (55 cm ø )

Luxury helm seat executed in white leather look including foot rest

Comprehensive dashboard including rev counter, fuel indicator, volt meter, engine hour, oil gauge and temperature gauge

Stainless steel strip on dashboard

Stainless steel engine control

Refrigerator (compressor) in stainless steel frame (75 Litre)

Spacious seating in the stern with set of cushions

Stern access door leading to integrated bathing platform

Synthetic teak trim around the cockpit

Synthetic teak on the enginebox

Synthetic teak on access steps with storage compartments

Large storage compartments

Large storage compartment in the floor ( front and stern)

Specially insulated engine compartment; with stainless steel grip and stainless steel opening for fire extinguishing

Electric bilge pump with float switch
Cabin sloop

Spacious seating in the bow (converts to double bed) with set of cushoins

Storage compartments under the seating
Galley

Fresh water installation including pressure system with sink and tap on LG Hi-Macs®  countertop

2 large drawers under countertop

Lighting above countertop
Lavatory

Lockable door to toilet room
Safety

Electric cockpit pump with float switch

Fuel valve lock and water separator/fuel filter/ cooling water strainer

Main switch in storage compartment (2)
Visit the most beautiful
of the Netherlands
Take a digital look around our 1500 m2 showroom.
Downloads
View or download the Antaris Seventy7 Cabin brochure below:
Discover all models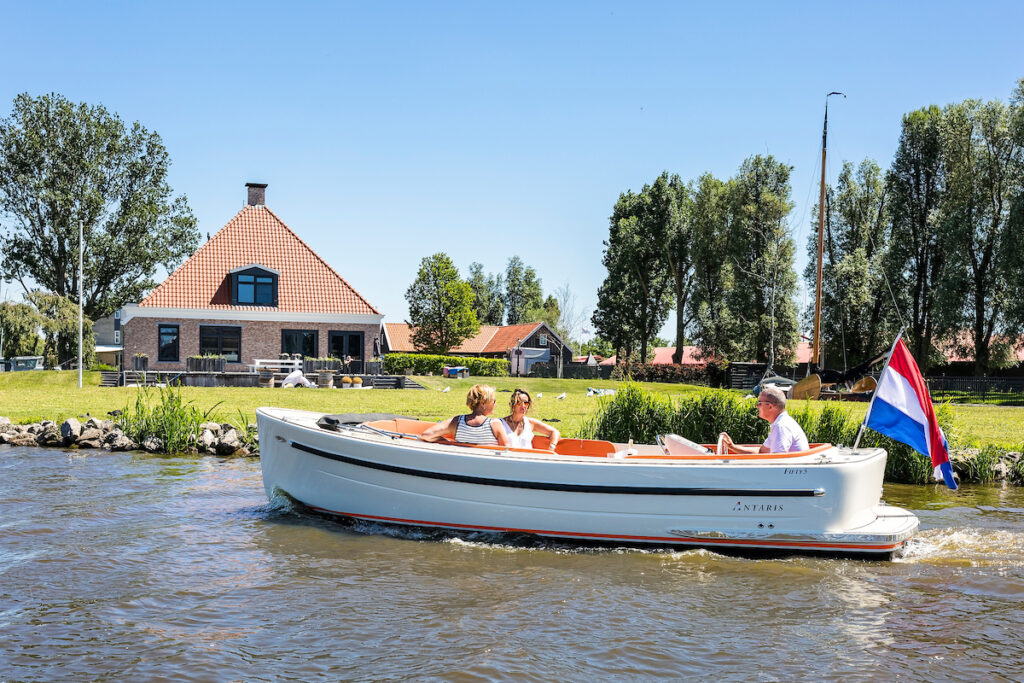 Antaris Fifty5
| | |
| --- | --- |
| Length | 5,90 m |
| Width | 2,50 m |
| Depth | 0,60 m |
| Height clearence | approx. 1,00 m |
| Number of persons | 8 |
Antaris Sixty6
| | |
| --- | --- |
| Length | 6,60 m |
| Width | 2,60 m |
| Depth | 0,70 m |
| Height clearence | approx. 1,10 m |
| Number of persons | 14 |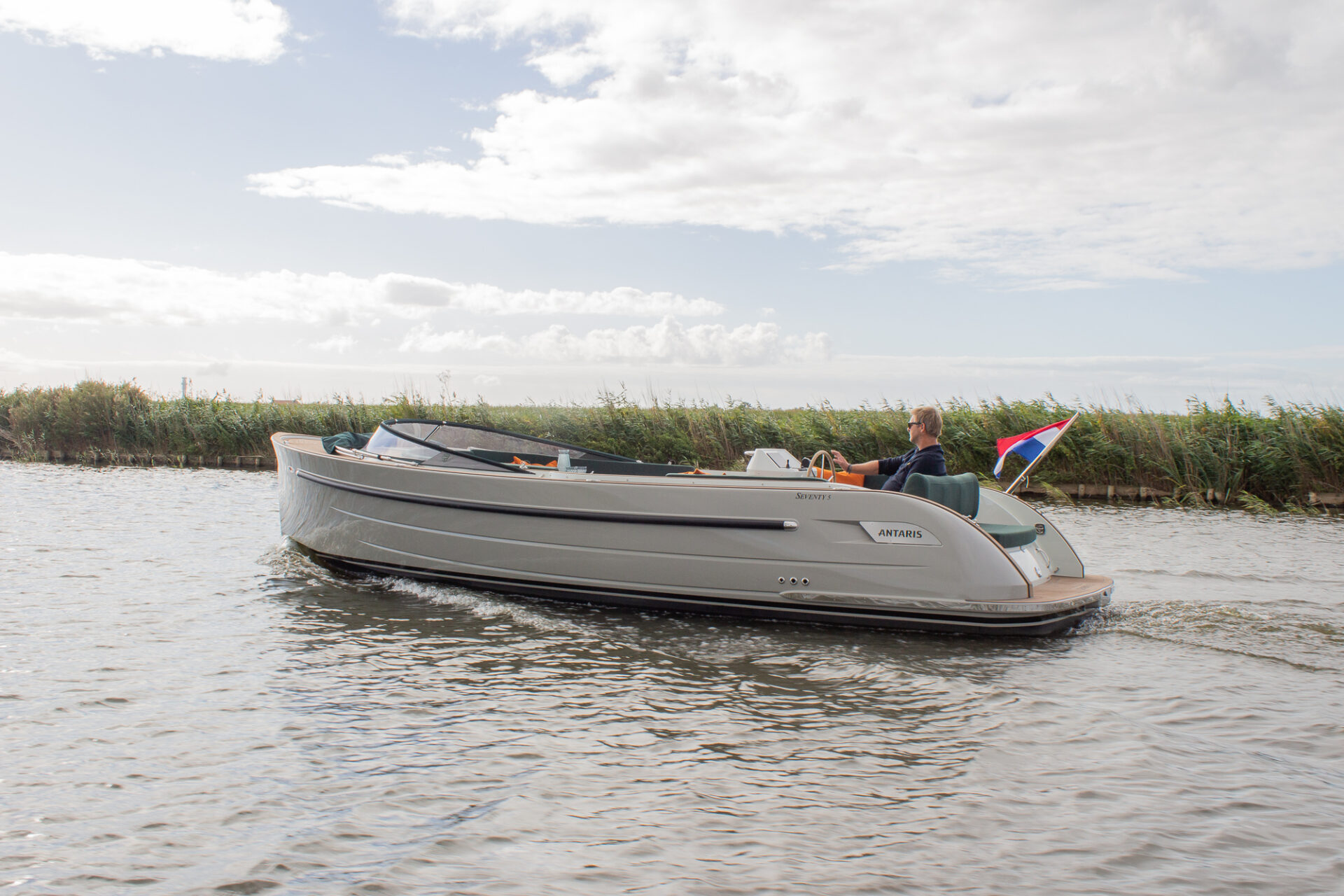 Antaris Seventy5
| | |
| --- | --- |
| Length | 7,50 m |
| Width | 2,85 m |
| Depth | 0,75 m |
| Height clearence | approx. 1,18 m |
| Number of persons | 10 |
Antaris Seventy7 Touring
| | |
| --- | --- |
| Length | 8,05 m |
| Width | 3,25 m |
| Depth | 0,75 m |
| Height clearence | approx. 1,50 m |
| Number of persons | 20 |
Antaris Seventy7 Sport
| | |
| --- | --- |
| Length | 8,05 m |
| Width | 3,25 m |
| Depth | 0,75 m |
| Height clearence | approx. 1,50 m |
| Number of persons | 20 |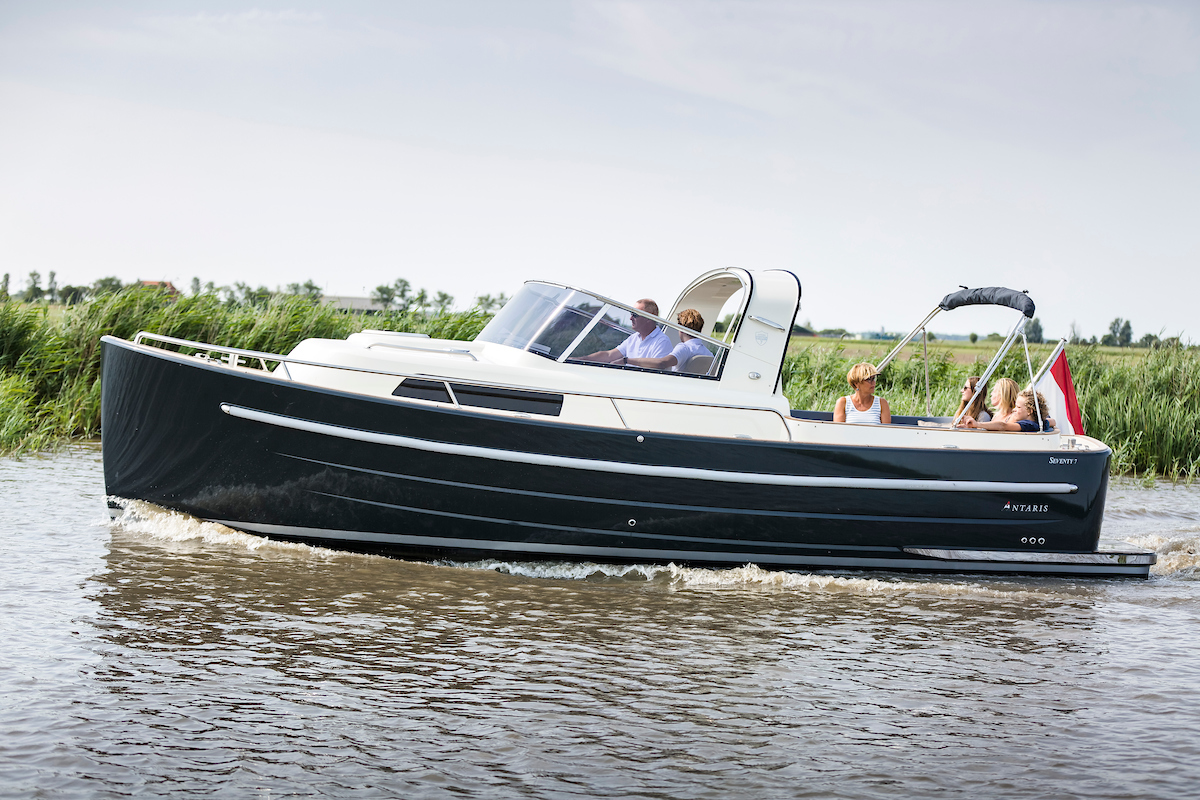 Antaris Seventy7 Cabin
| | |
| --- | --- |
| Length | 8,05 m |
| Width | 3,25 m |
| Depth | 0,80 m |
| Height clearence | approx. 2,30 m |
| Number of persons | 10 |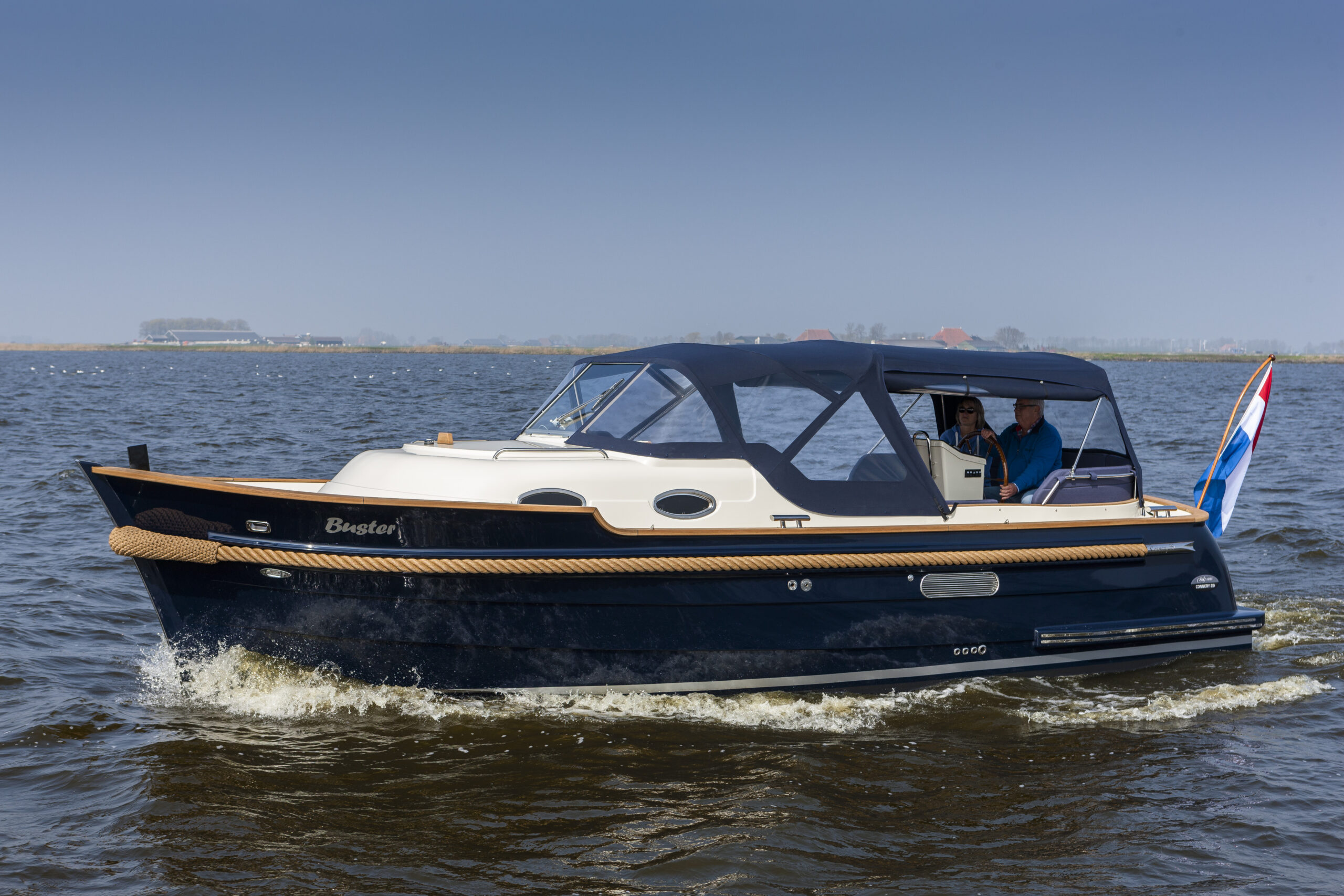 Antaris Connery 29
| | |
| --- | --- |
| Length | 8,70 m |
| Width | 3,05 m |
| Depth | 0,75 m |
| Height clearence | approx. 1,53 m |
| Number of persons | 8 |
Antaris X
| | |
| --- | --- |
| Length | 10,00 m |
| Width | 3,60 m |
| Depth | 0,75 m |
| Height clearence | approx. 2,40 m |
| Number of persons | 6 |